How to use paytm: #Paytmkaro is a slogan for Paytm. It means "Pay Through Mobile" it is providing fastest online mobile payment  & also It was one of the fastest growing e-commerce sites in India when it was launched in 2010.Now paytm getting more popular in e-commerce platform.
One97 Communication Ltd, which is started PAYTM. When it is launched, mainly focused on Mobile and DTH recharge later is extended to paytm wallet & E-commerce. Using paytm wallet we can send money to any bank account(using a/c number and IFSC code). Many people don't know paytm how to use. here you will get full details.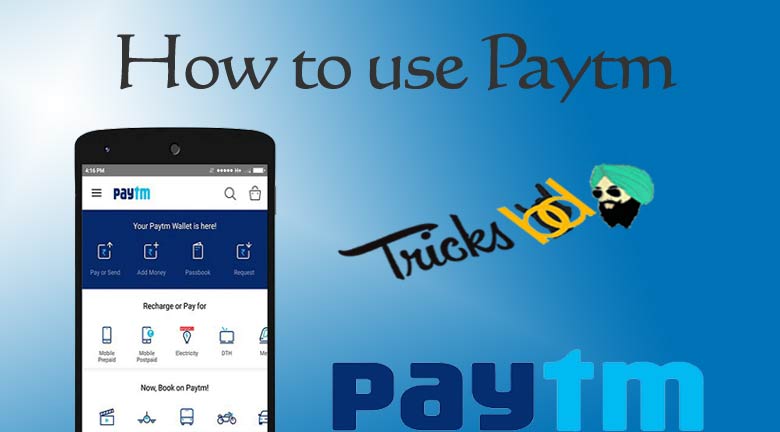 We can send the amount to any person or outlets using their account mobile number & OTP ( for verification ), and also we pay for online recharge & mobile bills, DTH Recharge & utility bills, travel, movies, shopping. Paytm giving more lot of  recharge offers and
After banned of 500 notes and 1000 note in India many people are using paytm wallet. Using this wallet we can send are receive 20000 rupees per month As per new government rules, earlier it limited to 10k rupees.
But so many people doesn't know how to use paytm wallet, that's why we are trying to give full details about the paytm wallet.
We can Add money to your wallet with debit cards, credit cards, net banking from all leading banks – using Visa, Mastercard, Rupay or transfer money to any Paytm Wallet.
Here Steps For How To Use Paytm Wallet App:
First, we have to download PAYTM App.
And then we have to register through using the mobile number and Email address.
It will send a Verification number OTP we have to enter it.
Then it will ask to enter your details like name, gender, date of birth.
You have created your account.
After creating your account, you have Login to account.
And then you have to Add Money to your account using ADD MONEY.
It asks to enter the amount; you have entered the amount that you required.
It takes to payment page enter your Debit/Credit/Net Banking detail(Nothing worry about to entering your card details).
Following it asks Secured OTP that provided by the bank.
your amount added to your PAYTM.
Also, see :
Steps To How to use paytm:
Here you have seen different options for paying options they are,
Mobile number Or QR code scan you may choose anyone.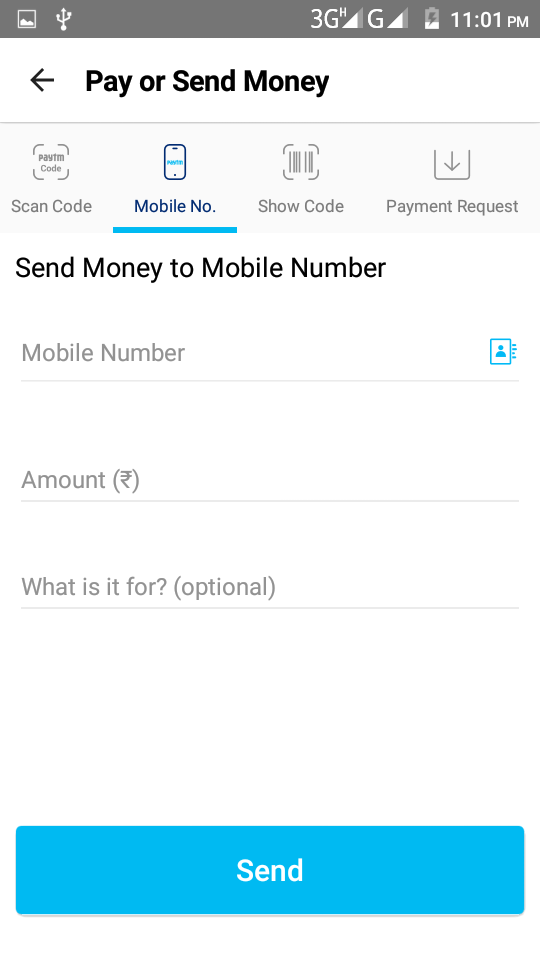 Send to mobile:
The have to enter the mobile number whom you want to send the amount.
And enter the amount.
Next, enter your comment that what purpose you have sent the amount.
Using QR code scan:
Scan the QR code of the merchants or any others that show the QR code.
Then enter the amount and click the Send Button.
How to Send Paytm Money to bank account: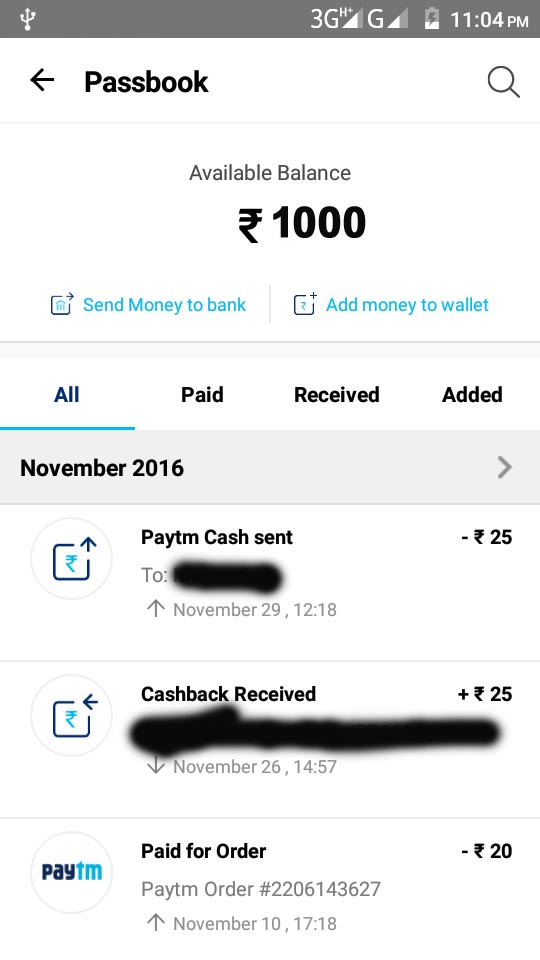 Using paytm wallet you can send the amount to your Bank account.
Here you can see an option PASSBOOK click on it.
You may see send the amount to the bank.
First of all, you have to enter Bank account number.
After that enter IFSC Code of the Branch than click on send button.
Next, enter your comment that what purpose you have sent the amount.
How to use Paytm UPI:
Finally Paytm introduced Bhim UPI in Paytm app, Now the all mobile wallets are invited upi in their wallets. First of all, you need to update your paytm app to use upi in paytm.
Send money through UPI :
Click on the BHIM UPI option and will redirect you to the UPI page. Now you have to select the bank name in which you having an account and it must be linked to your mobile number which you are using with Paytm.
Now click on bank name, Paytm will confirm your bank and linked to paytm app.
After linking bank to an app to need to set upi pin, previous you haven't any created upi it will generate new upi pin and linked to the bank.
After confirmation paytm will create a new paytm upi address like [email protected]
Now you can send money or receive money through this paytm UPI, Paytm has added another great future in paytm app that is scan QR code. Using this QR code you can send money directly to receive bank account.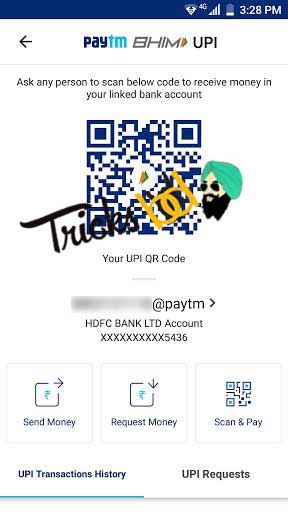 Conclusion:
Finally, In my experience paytm is very use full to each and every person to provide cashless transactions that's why I wrote how to use paytm here.When ­I started using paytm, I never went to the bank for any amount transitions. If do you get any problem regarding when transfer money please contact paytm contact no.
I hope you all understand this article, Do you face any problems or any issues comment your query's let we will solve them or give any alternative solutions. Keep visiting tricksbaba for more updates.
Summary
Article Name
Description
How paytm is the number one mobile wallet in India? Here the best solution for how to use paytm, and you can get the best solution for use paytm.
Author